System menu
The appearance of the right sidebar can change. If you tap and hold the system time for three seconds, the system menu slides over the bottom part of the right sidebar. The system menu enables you to open the Cloud menu.
Tap and hold the System Time icon ''.
The system menu appears. You will see the following:
Cloud menu

This button opens the Cloud menu. Here you can label your CloudBoX or view status information, for example.

Close

This button closes the sub-menu. The standard right sidebar reappears.


Cloud menu
The Cloud menu displays information about your CloudBoX(es).
Example
The Cloud menu looks as follows: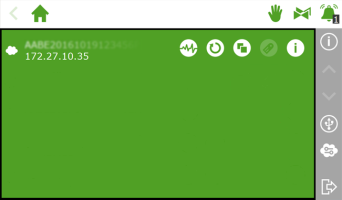 Figure 3: Cloud menu with a CloudBoX
The icons in the Cloud menu have the following meanings:
CloudBoX

This is a CloudBoX. Here you will find the CloudBoX ID and the network settings.

A warning icon will appear here when your CloudBoX licence has expired.

CloudBoX status

Tap this button to bring up status information relating to your CloudBoX, such as its version number and the controller that the CloudBoX is linked to.

Reset CloudBoX

If there are connection problems, this button enables you to reset the CloudBoX.

Link CloudBoX to current controller

Use this button to link the controller to the CloudBoX. If this button is inactive, then the link has already been created.

Name controller

Use this button to name the controller.

Display CloudBoX QR code

Tap this icon to display the QR code of your CloudBoX.
If the 'Link CloudBoX to current controller' and 'Name controller' icons are inactive, then your CloudBoX has not been authorized.